Why Overpay When You Don't Have To?
Join Us on September 8 to Learn More About JDX Comp
For attorneys, Workers' Compensation insurance comes at a high price based solely on total annual compensation with little to no recognition of low loss experience. Historically, the industry class has operated with excellent loss ratios. However, due to their size, many law firms have been unable to obtain any program options beyond guaranteed cost. To address this market disconnect we've created JDX Comp.
In this webinar, we will discuss how your firm can benefit from:
A program designed specifically for law firms
Large dividend returns each year (up to 40%)
No minimum size requirements
Coverage provided by an A XV rated insurance carrier
Seamless transition from your current program
September 8 | 2:00 PM Eastern Time
This webinar will last no more than 30 minutes
---
Meet our Speaker: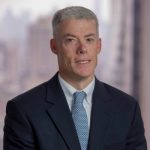 Mike Fitzsimmons
Mike Fitzsimmons is a Managing Principal Vanbridge Casualty Practice, specializing in the structuring and placement of complex casualty risks. Before joining Vanbridge, Mr. Fitzsimmons was a Senior Vice President for Mercator Risk Services, a wholesale insurance broker. He was a Casualty Practice Leader for significant account risks at Willis North America, Inc. from mid-2002 through 2006. Mr. Fitzsimmons served as a Casualty Team Leader in the large account group at Aon Risk Services, Inc. of New York from 1997 through mid-2002. He graduated from Saint Bonaventure University with a BA in Management & Marketing and he holds a CPCU designation.