EPIC Risk Advisory Bulletin
Volume 1, Issue 4
The global coronavirus (COVID-19) pandemic remains both dynamic and fluid. Around the world, we are witnessing unprecedented disruptions to global travel and economies. On March 11, the World Health Organization (WHO) classified COVID-19 as a pandemic, acknowledging they expect an increase in the number of cases, deaths, and affected countries.

The CDC has stated that major widespread transmission is likely to occur in the U.S. at some point. Across America, closures are occurring in nearly every sector. Concern is growing over the strain that soaring infections are likely to put on the healthcare system. As of March 12, 492 public U.S. companies have mentioned "coronavirus" in 8-K filings since the start of the outbreak. The industrial sector, which includes airlines, and the consumer discretionary sector, which includes entertainment, hotels and leisure, have the most mentions. The chart below breaks down the mention of coronavirus by sector and shows how widespread the impact of the virus is on the American economy.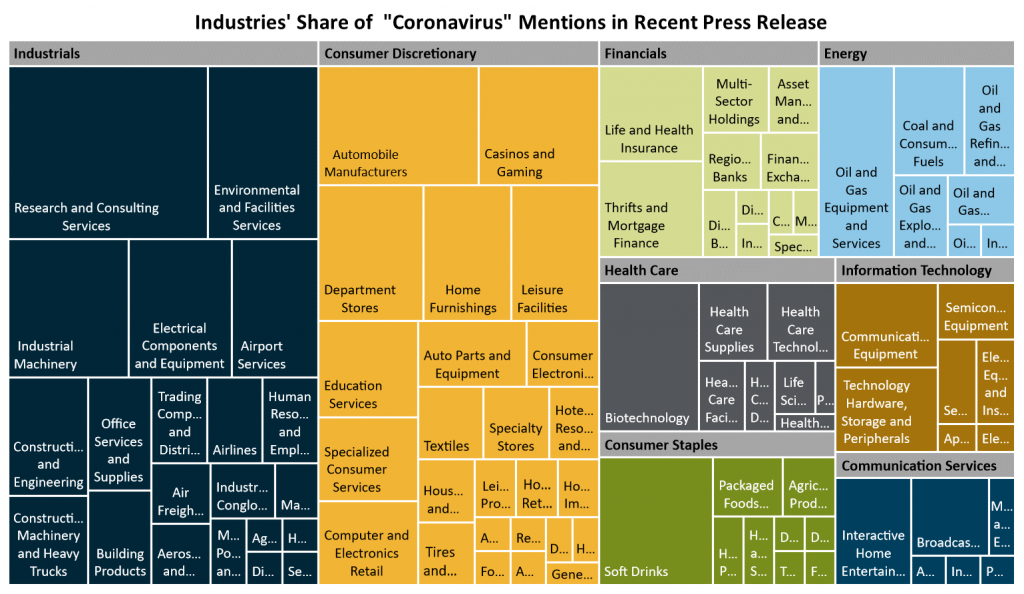 As businesses and individuals work toward a new normal for the immediate future, we continue to examine how coronavirus is impacting the insurance industry.
In this issue, we are taking a focused look at:
The information below is intended to provide a high level overview of critical areas of concern for businesses around coronavirus. Consult your EPIC insurance broker for more in-depth guidance.
---
Coronavirus is Damaging Your Business, But Will Insurance Cover It?
Coronavirus has reached a new phase in terms of its impact on businesses. What was once theoretical is now becoming reality as businesses and individuals feel the effects of the coronavirus pandemic. Many businesses are closed or will soon close. Given the associated lost business and revenue, many companies are asking whether or not their insurance policies will cover those losses. While this may not be clear at present, it is wise to prepare. Begin by tracking all costs and lost revenue associated with the virus. For example, consider tracking and detailing the following damages and their associated costs:
Physical Damage
Cost to clean-up contaminated area
Cost of supplies
Cost of labor to do the cleaning
Cost of disposal of contaminated property
Time Element
Date of exposure
Date of ordered shut down by civil authority
Number of days of shut down to clean-up and obtain civil authority's clearance to resume operations
Track all services, performances, products, orders, etc. cancelled due to shut down. Record lost revenue associated with each
Track if business was lost or just delayed (to be made up at a later date)
Track payroll
Track any additional expenses to continue operations at an alternate facility
Track any additional revenues lost from cafeteria, gift shops, classes, etc.
The COVID-19 situation is fluid, and most states have declared emergencies and implemented travel bans, curfews, and business closures. Federal, State, County, and local intervention will likely make efforts to make businesses whole, or at least partially offset the business impact of coronavirus. Whether recovery is provided by insurance policies, outside sources of relief, or a combination of the two, extensive documentation will be required to prove the loss.
EPIC strongly recommends tracking all costs associated with COVID-19, and while its use in no way implies coverage, we have provided an event tracking template that may be used to begin assessing any damage caused to your business by coronavirus. The first tab in the template provides a simple format to track the event and note dates, describe actions, and summarize expenses and lost revenue to help organize data and memorialize the event. The tabs that follow provide tools to capture actual numbers to track all cancelled events, reservations, orders, services, products, etc., as well as tracking invoices for the repair and replacement of covered property and extra expenses.
---
Employee Benefits Update
Self-Funded Health Plans: Gauging the Impact of Coronavirus
Many employers, particularly those in self-funded arrangements (in some cases with little or no aggregate stop-loss protection), are wondering how coronavirus pandemic will impact their healthcare programs. With costs exploding higher in response to broad sickness, devastating impact is a concern.
An S&P Global Ratings' study quantifying the potential impact of a pandemic on U.S. health insurer loss ratios and found 2020 medical loss ratios would increase by an estimated 3.5%, from 85% to 88.5%, in a moderate scenario and an estimated 11% up to 96% in a severe scenario. While the study was of 170 million fully-insured populations with private insurance, it offers a potentially helpful guide for self-insurers trying to gauge the potential impact of coronavirus on their plans.
That said, at this time the coronavirus is not anticipated to have a dramatic effect on the self-funded employer health plan costs of EPIC clients. The reasons for this are multi-fold:
Much of the 'elective' healthcare service system will disappear (e.g., joint replacements, bariatric surgeries, etc.). In New York City, the mayor advised that by executive order all elective surgeries must be postponed. There are also a variety of other "discretionary" medical services that will not be consumed – including fewer doctor visits and prescription drugs as well as the use of medical devices. There will also be little care rendered resulting from sports accidents, car crashes and other trauma and activity-related events. Given the amount of discretionary and voluntary care in the system, it is entirely plausible that this may dampen healthcare costs by at least 20%+.
By the most aggressive estimates, the coronavirus may infect 40% of the world population and hospitalize up to 20% of those infected. Those numbers; however, are heavily weighted towards the age 60+ and immuno-compromised population. Mortality rates suggest the effect is 50 times more acute on the elderly population, ranging from 0.0% – 0.4% for people at different age bands under 50, to 1.3% – 14.8% for people over age 50. The highest effect is on those over age 80.
The costs of hospitalization for pneumonia and respiratory illnesses are not considered to be "higher cost" hospitalizations (such as transplants, cancers, high-risk pregnancies, NICU stays, and complex surgeries). The average cost of treatment for pneumonia with complications is $20,000.
While much additional diagnostic testing and some unnecessary ER visits are anticipated, those should not be overly impactful on self-funded health plan costs. Diagnostic testing will be fairly low-cost (<$200) based upon estimates provided by Quest and LabCorp. EPIC is strongly encouraging clients to steer employees towards telehealth services in advance of unnecessary ER visits that will cost a few thousand dollars (see below).
Clients should remain vigilant of healthcare program costs by reviewing maximum plan exposure and aggregate stop-loss protection (if applicable). Additionally, employers should promote work from home capability where applicable and actively encourage employees seek the right settings of care if they fear an onset of coronavirus symptoms.
While a material escalation in plan costs is not expected for EPIC clients, there are positive steps that every employer can take, including:
Encourage employees to work from home, particularly in areas with heavier concentration of coronavirus infections.
Update and communicate work-from-home and travel policies in accordance with CDC and WHO advisories.
Identify the number of employees who fall into more vulnerable populations.
Review aggregate stop loss policies to determine aggregate coverage limits (maximum claims factors) and aggregate reimbursement maximums (typically between $1M and $2M).
Review and comply with any state directives around paid sick leave, such as Governor Polis' directive in Colorado.
Telehealth
In this new but temporary state of 'normal operations', it can be helpful to remind employees of what can be done from the comfort of their own home, which includes not only working but seeking medical advice through telehealth.
Encouraging employees to take advantage of telehealth, which can be a valuable tool to reduce the spread of infection by providing a first line of defense for early detection, will help people get the care they need.
Expatriate Concerns
Expatriate employees who may be forced to self-quarantine or work from home due to government required shutdowns rely on their employers to provide assurance and comfort that they are taking all necessary precautions to protect themselves and their families. Most U.S.-based carriers have waived copayments for coronavirus testing and telehealth screenings. Additionally, the majority of carriers have established online resources and hotlines for immediate access to the latest information, which include travel advisories and advice for employees who may need to seek medical care in a country that is not their home or country of business.
Summaries of the major expatriate insurers' current positions may be found at the following:
GeoBlue
Cigna Global Health Benefits
Aetna International
IMG
BUPA Global
Several of the major global insurers for local employee benefits have also shared coronavirus response information, ranging from how to access telehealth to detailed overviews of each local insurer's position on coverage. The following links provide more information:
Generali 
Maxis Global  Benefits Network
With the situation changing daily, checking the carrier website for the latest information is a wise course of action.
Short Term Disability Claims
EPIC has been working with insurers to determine how disability carriers are evaluating short term disability (STD) claims for employees who have been quarantined due to coronavirus, but do not meet the definition of disability as defined in the policy.
The majority of carriers (e.g. MetLife, Unum, Cigna, Reliance, Standard, Voya, etc.) have confirmed that they do not have a rider or policy language that can be added to an Insured STD policy, which will approve an STD claim if an employee is quarantined and does not meet the definition of disability. One carrier (Guardian) does have a rider for Insured STD contracts situated outside New York. Another carrier (Sun Life) has policy language that will approve an STD claim if an employee is quarantined due to coronavirus.
---
What the SEC's Coronavirus Advisory Means for Your Business
The SEC has been monitoring the coronavirus situation carefully for months and has been encouraging public companies to consider the impact this will have on business operations in the short and long term.
On March 4, 2020 the SEC issued an Order providing advice and conditional relief to public companies impacted by the outbreak. It is directing public companies to closely evaluate the impact coronavirus has had, and will continue to have, on their overall operations and financials and make appropriate disclosures to investors.
In addition, the SEC Order provides conditional relief to public companies by allowing for delayed SEC filings, if additional time is necessary to compile the information required to make accurate and complete disclosures regarding the operational and financial impact. More specifically, the Order states that if a public company is unable (due to coronavirus) to meet filing deadlines for SEC reports due to be filed March 1 to April 30, 2020, it will have an additional 45 days to file these reports provided they file reports on Form 8-K describing the specific reason for the delay.
A key challenge surrounding this Order revolves around the severity and rapid evolution of the crisis itself. It will be difficult for any organization to fully evaluate the short and long-term impact on its operations and financials while the situation is still evolving.
Public company executives and boards of directors need to be cognizant of the potential need to modify their thinking and possibly their SEC and investor disclosures based on the new developments. For this reason, companies should focus on enhancing communication between and among directors and officers, executives, and management teams with the organization.
Given that most organizations have moved to almost fully remote work arrangements, lines of communication could be strained. Further, questions about the effect of coronavirus will likely become commonplace during conference calls with analysts. Public companies should be prepared for these kinds of questions to avoid the need for embarrassing corrections.
Although the March 4th SEC Order was directed at public companies, the underlying message applies broadly to both public and private organizations. Communication, flexibility of thought, transparency and patience are of the utmost importance today as we navigate through these unchartered waters.
Conclusion
Our understanding of coronavirus and its impact around the world continues to evolve at a rapid pace. This newsletter briefly touches on issues that businesses may want to consider as they approach their response to novel coronavirus. More topics will be considered in future issues as our understanding of the virus and its impact continues to evolve. Please reach out to your EPIC broker for more information.
For all of EPIC's coronavirus coverage, visit epicbrokers.com/coronavirus 
Disclaimer: This has been provided as an informational resource for EPIC clients and business partners. It is intended to provide general guidance on potential exposures and is not intended to provide medical advice or address medical concerns or specific risk circumstances. Due to the dynamic nature of infectious diseases, EPIC cannot be held liable for the guidance provided. We strongly encourage readers to seek additional safety, medical and epidemiological information from credible sources such as the Centers for Disease Control and Prevention and the World Health Organization. Regarding insurance coverage questions, whether coverage applies or a policy will respond to any risk or circumstance is subject to the specific terms and conditions of the policies and contracts at issue and underwriter determinations. </small class>
Sign up for our Emergency Response Alerts
With this subscription, you'll receive important updates from our team as we continue to cover global outbreaks and natural disasters impacting the business community, both locally and abroad.