EPIC Commits to Staying Connected for Clients!
Employee Benefits University (EBU) 10, Coming April 24 – 26
EPIC Employee Benefits team members are gathering again for the latest and greatest iteration of our national internal education and networking event. This year we'll be in Nashville, TN!
Why Is EBU so Important?
EBU is designed first and foremost to benefit our clients and their employees. The opportunity for our EPIC team to forge lasting bonds with colleagues and provide educational opportunities in a face-to-face setting has proven to be an exceptional tool in our national strategy.
Our objectives are to:
Share best practices with our peers and partner firms
Provide a training opportunity for advanced benefits concepts
Increase awareness of the many resources we bring as a leading national benefits firm
Strengthen the national partnerships we have created with the sponsors of this event
Have fun working together and building lasting relationships across our company
An Engaging Experience
Our three-day event is packed with a series of guest speaker sessions, training sessions, expo hall booths and carrier-hosted "lightning rounds," curated to keep our growing team in step and provide an enhanced service experience for our clients.
At EBU, our employees will visit rooms with live, interactive presentations – all centered around employee benefits education.
Attendees share meals throughout the day where they can get to know their EPIC colleagues and Employee Benefits practice leaders in other parts of the country. And they get to wrap up each day of the event with a dinner and a cocktail party, rubbing elbows with peers and our many sponsors, partners and guests.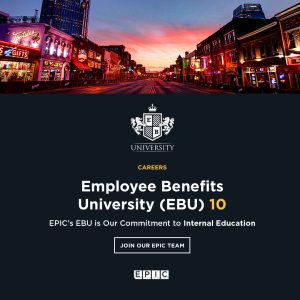 Are You Ready To Start Doing Something EPIC?